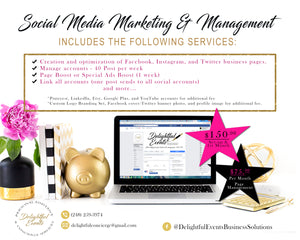 We have noticed that most businesses have Facebook, Twitter and other social media accounts that they just don't have time to manage themselves. 
If you aren't on social media you are missing great opportunities to connect with new customers and create an even stronger connection with your most loyal customers.
Our services will relieve frustrations, stress, worry, sleepless nights and everything else!
We will create & fully manage your social media business pages post, commenting, answering inboxes, running ads and contests!
I order for us to ensure our job is successful and you are satisfied with your logo design, we need some background information about you and your visions. Please complete the following questions. Thanks
Company name, background & short description of services.
Current web address (if available)
What's Included:
Creation and optimization of Facebook, Instagram, and Twitter business pages. 
Manage accounts - 40 Post per week Page Boost or Special Ads Boost (1 week) 
Link all accounts (one post sends to all social accounts) and more...
*Pinterest, LinkedIn, Etsy, Google Plus, and YouTube accounts for additional fee
Social Media Branding Kit packages include the digital download of the following;

4 x Social Media Post Templates to allow you to showcase your images, reviews & quotes in a cohesive and stylish way.
2 x Social Media Banners - one to showcase images, and one that has space for text to advertise your services, offers etc.
1 x Social Media Profile Picture to use across all platforms
6 x Instagram Highlight Covers in the categories of your choice